173 Bridled Glue Brushes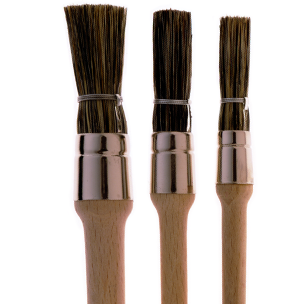 Our finest quality round bridled glue brush is made with hog bristle and set in epoxy for solvent resistance. The brush part is bridled with wire to stiffen the bristle. The handle is made of plain white wood and a seamless steel ferrule. When the brush wears down, worn bristles can be cut down and the bridle released, permitting use of remaining brush part - you now have a new glue brush!
This brush is suitable for glue, heavy material applicator or used as a stencil brush.
Discount Per Size: 3 Dozen-10%, 6 Dozen-15%, 12 Dozen-20%
Have a question?
---