1600 Power Driven Carbon or Stainless Steel Tube Brushes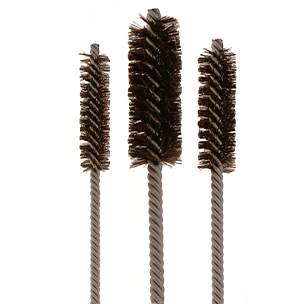 Used for aggressive cleaning or deburring jobs that the manual series will not handle
This flue brush handle features heavy duty double-wire stem construction which will readily chuck into a power tool
Using large diameter fill wire will result in stiffer cleaning action
More bristle in this size means flue brushes will last longer
The brush should be firmly chucked into a suitable holder at all times. Always wear eye protection and follow safety guidelines supplied with power-driven flue brushes.
Do not exceed 2,000 rpm maximum safe free speed!
CS = Carbon Steel

SS = Stainless Steel
Discount Per Size: 3 Dozen-10%, 6 Dozen-15%, 12 Dozen-20%
Have a question?
---